Season Tickets

Benefits of the RUSH GOLD MEMBERSHIP:
Monthly payment options
Significant savings off box office pricing
Never Waste a Ticket Program
Season-long access to BankWest Club Level
Specialty jersey drawings
Season Ticket Member banquet and gift
Name plates on seat
Freebie Friday drawings
15% off Rush Team Store
10% off Civic Center Concessions
On-ice picture with the entire Rush team
Access through early entry gate
5 for Fighting Package
Personal Account Representative
10th Anniversary Commemorative Puck
Frequently Asked Questions:
What is the Rush Gold Membership?
It is a membership club that includes Rush season tickets, but season tickets are only the beginning of the additional benefits and experiences that you will receive as a member.

Who are the members of Rush Gold Membership?
You are what makes up the Rush Gold Membership. Only full season ticket holders can enroll in the Rush Gold Membership.

How is this different from being a Season Ticket Holder?
Members enjoy year-round benefits. Rush Gold Memberships will automatically renew in April, unless you cancel your membership during the months of March and April. The Rush Gold Membership gives you three payment options for your convenience.

What is the loyalty rewards program?
All members can receive great discounts at area businesses, simply by presenting their Gold Member card. For a full list of benefits click here.
Payment Options:
MONTHLY AUTO-PAY: Enjoy a 12 month auto-payment plan which automatically renews each year in April (Much like a gym or club membership)
QUARTERLY AUTO-PAY: 4 auto-payments 3 months a part
PAY IN FULL: Pay your 12 month invoice off in one shot; no fees, just convenient!
* Memberships must be canceled during the months of March or April, if membership is not canceled during this window, your membership will continue for the next year.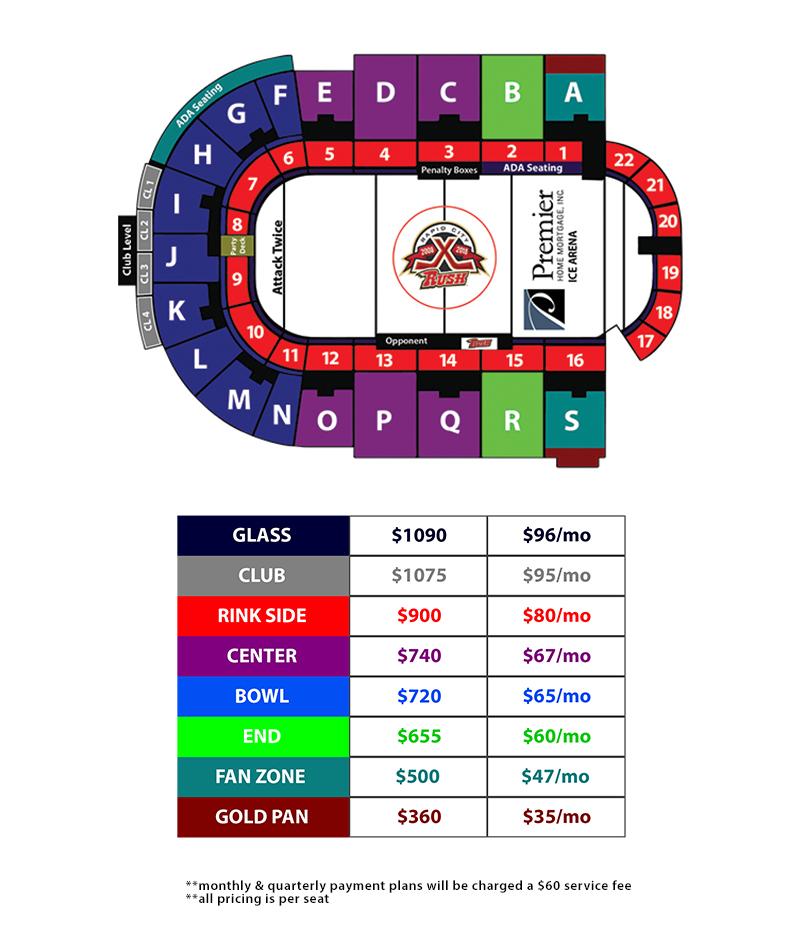 Call (605)716-PUCK to speak to a ticket representative!